Attorney Allen Tullar to Speak at Bradbury-Sullivan LGBT Community Center's 'Path to Parenthood' Event on July 27th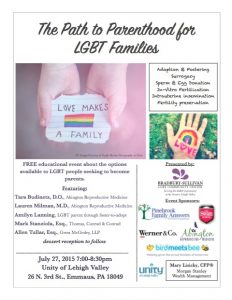 The Bradbury-Sullivan LGBT Community Center will be hosting a free educational event about the options available to LGBT people seeking to become parents on Monday, July 27th at Unity of Lehigh Valley in Emmaus. Topics will include adoption, fostering, surrogacy, sperm and egg donation, in-vitro fertilization, intrauterine insemination, and fertility preservation.
Gross McGinley's Partner Attorney, Allen Tullar, will be amongst the speakers at the event and will discuss in-vitro fertilization and surrogacy. More specifically, he will address contractual issues for same-sex couples who use assisted reproduction service providers, pre-birth orders, gestational contract issues and the current legal uncertainty regarding the fate of unused frozen embryos.  He will also discuss surrogacy contracts and when pre-birth orders are needed.
For more information about this event, please click here.