Gross McGinley Launches Giving Back Tuesday 2020 Program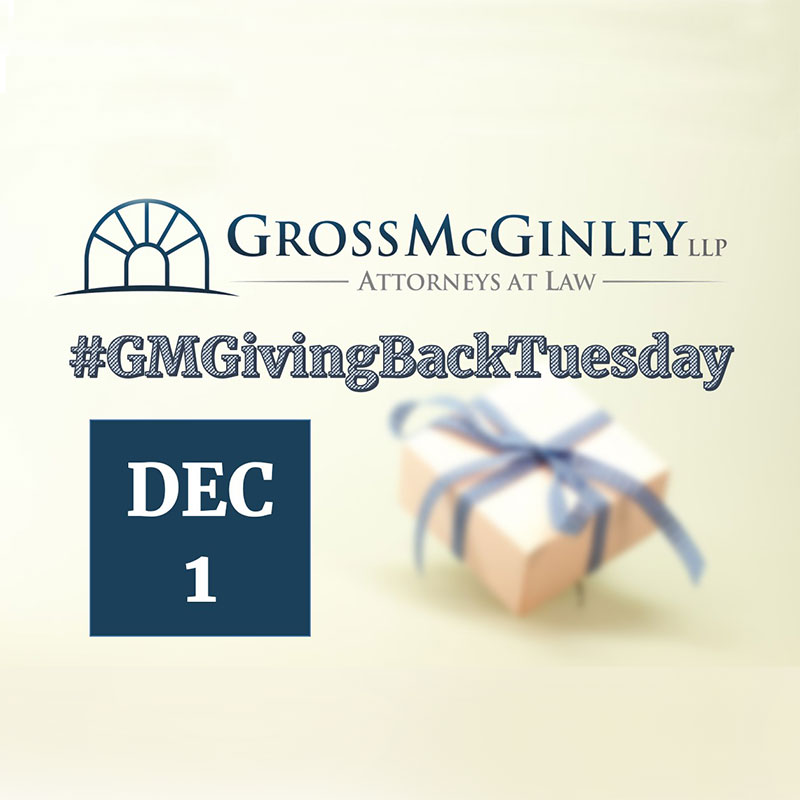 In honor of Giving Tuesday on December 1, 2020 and to provide much needed support to the Greater Lehigh Valley's nonprofits, our firm announces "Gross McGinley Giving Back Tuesday."
With more than 40 years serving the Lehigh Valley, our firm values our strong relationships with the area's charitable organizations. Whether it's volunteering for projects, providing board leadership or representing them in legal matters, members of our firm are committed to the success of the region's nonprofits. As the COVID-19 pandemic caused the cancellation of many fundraising events, nonprofits were faced with new challenges.
"Local nonprofits that we support, and in some cases represent, are really struggling this year," says Jack Gross, the firm's Managing Partner. "The need for their services has increased and the available resources have decreased. We are happy to have found a special way to reach out in 2020 through our Gross McGinley Giving Back Tuesday challenge grant program."
Thirteen of the Greater Lehigh Valley's nonprofits are participating in Gross McGinley Giving Back Tuesday. Through the program, our gift of $500 gift will be doubled to $1,000 if the nonprofit is able to match or exceed the initial gift through their Giving Tuesday campaign donations. In return, each of the nonprofits was asked to create a short video to discuss how this challenge grant will help them further their missions or advance programs, especially those spun up during the pandemic. The videos will be shared across Gross McGinley and the nonprofit's social media channels to create awareness. A hashtag #GMGivingBackTuesday has also be created to make it easier to follow the campaign.
"Our goal is to help each of them bring in $1,500+ in one day," says Jack.
The firm is counting on the community to help trigger the challenge grants, in hopes of inspiring a collective impact of $18,000 or more. We trust this program will help make a difference for the nonprofits and the people they serve.